Rouleur's Tour de France Top Bananas so far
As the 2020 Tour de France pauses for breath on its first rest day, here's the rundown of the unsung heroes we picked for Top Banana. Our daily award goes to an unsung hero of each stage of the 2020 Tour de France – not the winner, not the yellow jersey – but a rider whose efforts deserve greater recognition.
La Course by Le Tour de France
Elisa Longo Borghini (Trek-Segafredo)
Longo-Borghini and Deignan might not be the snappiest sounding set of crimefighters but there's certainly no more dynamic a duo in all of cycling at the moment. 
When it became clear that La Course was going to come down to a sprint,  Deignan, the stronger sprinter of the two, found herself on the front of the group. She needed a foil, to draw out Marianne Vos. Longo Borghini seemed to know telepathically what she had to do. Darting from the back to the front, she forced the Dutch rider to follow. Deignan leapt on her rival's wheel, maneuvered round and brought the race home. If you ever had doubts as to how much of a team game cycling can be, today's showcase women's race should have dispelled them. 
Tour de France stage 1: Nice - Nice
Tony Martin (Jumbo-Visma)
While proclaiming him the peloton's patron, as one commentator did yesterday, might be stretching things, it seems appropriate to bestow on Tony Martin the title of not only its policeman but today's Top Banana as well.
As crash after crash took riders down, the Jumbo Visma veteran took it upon himself to muscle his way to the front of the bunch. Once there he physically and vocally instructed everyone to calm the h*ck down - especially on the descents. Doing so meant effectively neutralising the racing until they'd reached sea level. Not what some might have wanted to see but far better than losing riders at such an early stage. A few of those who will still line up at the start today will have one man to thank.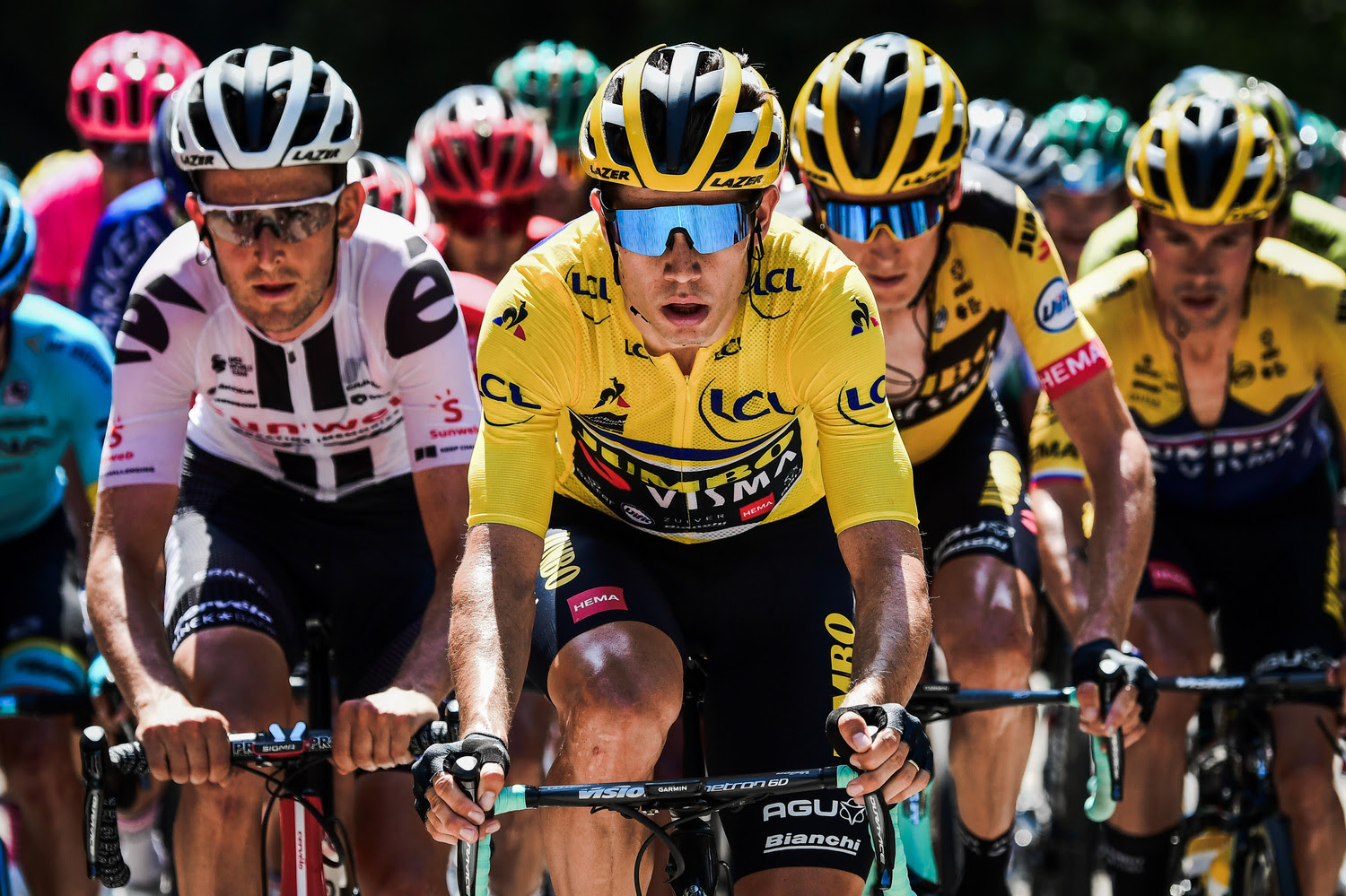 Stage 2: Nice - Nice
Wout van Aert (Jumbo-Visma)
On day one, Wout van Aert was supposed to be given free reign to ride for himself, for the stage win and for the yellow jersey. In the end he decided that it was too dangerous to participate in the sprint.
 Could it have been a sense of responsibility towards the team that deterred him from getting involved in the fast and furious finish? Jumbo Visma can ill afford to lose a rider of his versatile talents. Yesterday the Milan-Sanremo and Strade Bianche winner was spotted on bottle duty, with plenty for everyone stuffed in his jersey. A star, a watercarrier and a Top Banana all at the same time.
Stage 3: Nice - Sisteron
Jérôme Cousin (Total Direct Energie)
Truth be told, we wanted to award stage 3's fruit to Hugo Hofstetter. The Israel Start-up Nation sprinter pipped Peter Sagan to fourth, making it his team's second best ever Grand Tour stage result - curse you Ruben Plaza in 2018 for making our stat slightly less impressive-sounding.
Like I said, we wanted to award our daily prize to him, only we couldn't find a single suitable photo. 
So instead the banana goes to the day's more prominent Frenchman. Stages like this need a sacrificial lamb, and it's always more likely to come from one of the smaller teams. Sometimes you even get to stand on the podium and hold aloft a patronising piece of red plastic. For riding with his head in the wind, Jérôme Cousin was awarded the Prix de la combativité from Le Tour, and a(n entirely symbolic) banana from us. Be nice to think he'd get a bit of rest this afternoon, but he probably won't.
Stage 4: Sisteron - Orcières-Merlette
Guillaume Martin (Cofidis)
So it was maybe not the right move at the right time but my goodness, weren't we all glad Guillaume Martin made it? While those around him were watching wheels, the Frenchman was one of the few to dare show his face to the wind. Third place was just reward for that effort. In a few weeks he may be grateful for those four bonus seconds as well.
There's not much more to sat about it but, while we're here, so can we take a moment to consider the fact that there is a Cofidis rider with a genuine chance in this race? And I'm not just saying that because I put a bet on him at 100/1 last week.
No, of course he won't win the Tour de France, but do you know the last time one of their riders even stood on the podium in Paris? 1998. 19.98. (Yes, it was Bobby Julich and yes we know he has that awkward doping section within his Wikipedia entry but different times, blah blah blah.)
Cédric Vasseur has taken a team that was the butt of so many jokes for so long - we should know, having made enough of them - and rebuilt them into a respectable outfit that looks more than capable of winning races. Even if they don't go on to do just that. A figurative piece of fruit is the least he deserves.
Stage 5: Gap - Privas
Sam Bennett (Deceuninck-Quick Step)
If it wasn't weird enough to be watching the Tour de France in September, we're now having to get our heads around being five stages in to find Peter Sagan has already taken, and given up, the leader's jersey in the points competition.
Normally when the Slovakian takes the maillot vert, he keeps it. On five of the seven occasions he's finished the race with it (2019, 2018, 2014, 2013 and 2012) he's had it by the end of the first Monday and worn all the way to Paris. 
We probably shouldn't speak too soon but, for the first time in a while, it looks like we might have a genuine contest on our hands. The first to challenge Sagan's supremacy and take - at  least temporary - custody of said chemise? Mr Sam Bennett.
Bennett might have only managed third on the stage but the win wasn't really his priority today. He proved that when he made Michael Mørkøv lead him out to ensure he took maximum points at the intermediate sprint, equalling Sagan's score. After that, much as he would have liked to claim his first Tour stage, the most important thing was to ensure the three-time world champion finished behind him. 
You might try to argue that Bennett is ineligible for our prize because he got to stand on the podium. You might say that my gaelic heritage and newly acquired citizenship - both of which I'd be proper freaked out if you knew about, but let's pretend - makes me an impartial adjudicator. You might be right on both of those fronts. 
But before today, 24th of July 1989 was the last time an Irishman led any of the Tour de France's categories and 31 years is a long time to wait. What's not Top Banana worthy about that?


Stage 6: Le Teil - Mont Aigoual
Neilson Powless (EF Education First)
I must confess to knowing little of Neilson Powless before this year's Tour. I've obviously watched bike races he's ridden in but never particularly noticed him riding in them. The 24 year-old previous results - the best of which included a 4th place over at the Tour of Utah in 2017 and second on a stage of the Tour of Poland last year - did not exactly scream "one to watch at the Tour de France."

Yes he has been the most prominent of EF's riders in the five stages so far. His young Colombian colleagues Dani Martinez and Sergio Higuita have performed slightly below expectations. We've only really seen them when they've been hanging onto race's rear. EF's older Colombian, Rigoberto Uran, has been safely ensconced in the pack. Powless, in contrast, has on several occasions been seen stirring up trouble at the front.

On Sunday he was the first to try something at the bottom of col d'Eze. The attack lasted no more than two minutes but after a heavy day of true Tour climbing it was notable that he still had the legs to attack. Yesterday he made it into the break and was one of the last surviving members of it. Alexey Lutsenko couldn't see crack him until 4km from the summit of the Col de la Lusette.

With Greg van Avermaet pipping Powless to third and Nico Roche a deserving combativity prize winner, it seems only right to reward the Young American with our figurative fruit. It was his birthday, after all.
Stage 7: Millau - Lavaur
Gregor Mühlberger (Bora-hansgrohe)
If you tuned in late, you'll have missed this one. So eager was Benoît Cosenefroy to increase his lead in the KOM competition, that he darted off the front of the bunch almost before Christian Prudhomme had lowered himself back into the race director's car. 
Cosnefroy had likely hoped to tease out a few other riders with whom to form a break, and crack on towards the next polka dot points. 
But there wasn't going to be a break. Because Bora-Hansgrohe had seen the weather forecast. 
As the summit of the Cote de Luzencon neared, the Maillot à Pois was on his own but the bunch, led by Gregor Mühlberger, was closing fast. 
Mühlberger looked like he could have driven over Cosnefroy with ease. Instead he acknowledged the Frenchman with a nod, then eased off the gas for an almost imperceptible moment. Cosnefroy took the top two points, Mühlberger the remainder. Truly the behaviour of a Top Banana.
Stage 8: Cazères - Loudenvielle
Toms Skujinš (Trek-Segafredo)
Plenty of contenders for the day's Top Banana. Rouleur columnist Romain Bardet, for looking reborn; Tadej Pogačar, for taking back 40 of the 81 seconds he lost to his rivals in the crosswinds on Friday. 
The thing is though, neither of those riders spent the day showing off the most stylish jersey in professional cycling. For, in what must be a very rare, mid-race occurrence, with the Latvian national championships taking place today, Toms Skujins will be reverting to the same kit as his team-mates. It will be sorely missed.
He certainly gave it a good send-off. Though it wasn't quite the win for Mr Sqweens, a career-best performance earned the outfit plenty of screentime. Deserving of a Top Banana at the very least.
Stage 9: Pau - Laruns
Marc Hirschi (Team Sunweb)
Who else but Hirschi? The Tour de France gave him their consolation (combatitivity) prize and there were no other riders in the running for ours. Our good friend the Cycling Mole called the Sunweb rider's 90km escape "the best Tour de France ride I've ever seen." We agree wholeheartedly, and the outcome made no difference to that assessment.
Still, it must have been utterly heartbreaking to have his first Tour de France stage seemingly within reach, only for it to be snatched away at the line. Such is the beauty and tragedy of bike racing. For us, and millions around the world, it will be no less memorable for the way the stage ended. For Hirschi himself it will only make that victory sweeter when it does eventually, inevitably, arrive.
Want to find out every stage's Top Banana pick first? Scroll down and join our daily Tour de France newsletter.